A powerful unparalleled AI engine
LENSai™ Integrated Intelligence Platform
At the forefront of healthcare innovation lies our powerful technology, which accelerates drug discovery by delivering scalable data visualization and insights. Researchers can rapidly identify novel therapeutic targets and life-changing drug candidates, while also powering personalized medicine for individual patients. With the perfect combination of cutting-edge technology and laboratory expertise, LENSai's self-learning systems will truly transform your discovery process. Join us in our mission to revolutionize healthcare and improve the lives of patients around the world.
Disruption
at scale
The power of LENSai: actionable insight
Rapid insight and critical analysis
Our platform provides rapid access to meaningful insights that identify novel and complex targets, analyze data, and optimize antibody sequences. Our knowledge graphs support every step in the process, accelerating end-to-end clinical discovery.
Discover hidden knowledge
By analyzing diverse data sources, LENSai can identify new antibody targets and predict binding affinities, as well as design and optimize antibody sequences and predict potential side effects, immunogenicity, and therapeutic applications.
Benchmark lead candidates
Rapidly screen a large number of lead candidates, predict their efficacy, and identify potential safety concerns, helping to prioritize the most promising lead candidates for further development.
Build knowledge base
Active learning continuously builds and indexes all sequence data, and links it with relevant metadata, creating a centralized and efficient knowledge base that is instantly available and traceable for your organization to leverage.
Analyze at
scale
Designed to enable researchers to analyze large-scale, multi-dimensional and multi-source omics data in real-time, gaining deeper insights into biological systems and accelerating the development of new therapies and diagnostics.
Unified user platform
HYFTs® - our universal language for biological data, can unify, organize, and standardize all omics data, which enables you and your team to collaborate and perform more efficient and accurate analyses. Works across all species and applicable in any phase.
The power within: unlimited scalability
To attain a comprehensive understanding of the biosphere, it's essential to have access to an extensive knowledge graph. The richness of the graph determines the level of detail and depth of information that can be extracted. With 25 billion relationships, the HYFT graph empowers fine-grained levels of exploration that were not previously possible, opening up a whole new world of undiscovered knowledge.
Connecting the biosphere
Introducing LENSai - the first-in-class patented HYFT technology's distinctive ability to link sequence, structure, function, and literature in unprecedented ways makes it an invaluable tool for generating new insights and propelling scientific research forward. The powerful and robust technology provides a comprehensive understanding of the relationships between genes, proteins, and biological pathways, enabling the identification of novel targets for drug discovery and development. This is the first technology to integrate proprietary algorithms into their LLM (Large Language Model) providing: enhanced natural language understanding, advanced biological data mining, hypothesis generation, improved predictive modeling, enhanced decision support, streamlined knowledge integration.
Continuous learning, high-throughput indexing
Access the power of perpetual innovation. Continuous data enrichment and a self-learning platform offers several benefits. Data looping enhances accuracy and deepens the knowledge base to provide access to the most current actionable insights. With our dynamic and always evolving knowledge base powering the ability to identifying potential new genetic variants associated with diseases, benchmark candidates, analyze drug efficacy or ultimately to gain a better understanding of the underlying mechanisms of complex diseases — the future is ours to create.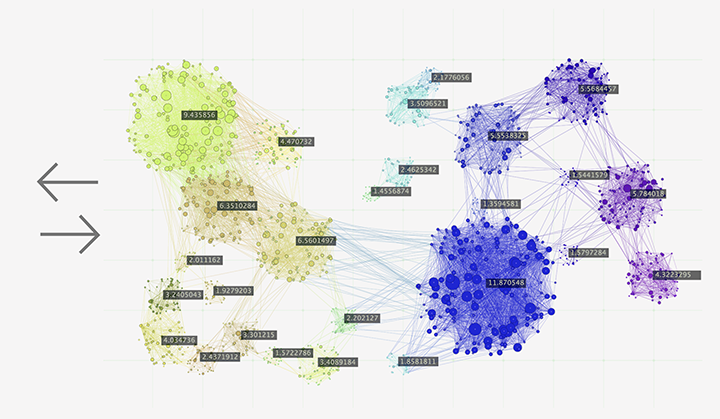 Cracking the genome code - HYFTs Universal Fingerprints™
HYFT technology uses unique patterns or "Universal Fingerprints" found in nature to create a vast network of connections that help us understand the complex relations within biological systems. Unlike other technologies, the unique feature of HYFTs is its ability to connect crucial dimensions in biology in one network such as sequence information (DNA, RNA or amino acids), 3D structures of proteins, functional information and text-based scientific literature. Additionally, the combination of HYFT technology with cutting-edge AI advancements like Large Language Models (LLMs) and 3D protein structure prediction capabilities from AlphaFold-2, an artificial intelligence tool developed by DeepMind (an Alphabet company specializing in AI), along with ESM-2, an innovative approach developed by Meta AI researchers for protein structure prediction, forms an exceptionally powerful system for our AI-driven learning platform.
20
million Integrated structural HYFTs
660
million Indexed data objects
25+
billion Biosphere data correlations
Markets
Rapidly evolving with expanding capabilities
Biotherapeutic discovery
Veterinary therapeutics
Agriculture, horticulture, crop protection solutions
Service
offering
Cracking the code: big data with unprecedented insight and analysis
Key benefits: accelerate drug discovery, lower costs, improve efficiency, expand data insight, enhance safety and efficacy. Scale LENSai to customize to your needs and promote end-to-end high-throughput workflows.
Data Management
Data Organization
Data
Lineage
Metadata
Management
Multi-interface (API-first)
Sequence Analysis
Variant Calling
Immune Repertoire Analysis
Immunogenicity Screening
Affinity Maturation

Structural Analysis
Epitope Prediction
Antibody Structure Prediction
Antibody Docking
Structural Modeling
Ligand Docking
Functional Analysis
Target Validation
Functional Profiling
Lead Identification
Target Discovery
Biosimilars
Customized cross-functional analysis
The unparalleled functionality can be customized to combine cross-functional layering and analysis of sequence, structure, and function allowing for a truly comprehensive and integrated approach to understanding complex biological systems.
Let's accelerate discovery
Learn more about our portfolio, pipeline, and career opportunities.
Ingrid Brands, Ph.D
General Manager